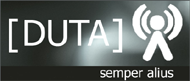 ---
News Item: : DUTA server III
(Category: Gaming)
Posted by Hippy||DUTA||
Sunday, 4 November 2007, 13:00:00

Our latest gaming solution has been supplied by Multiplay.co.uk for our general abuse and pleasure. After many years of good value hosting from E-Frag, the writing is on the wall for its demise. So a big thanks to them but also a big hi to Multiplay for providing our new service, lets hope its as good as our last and provides a home for some time to come.



---
This news item is from DUTA
( http://www.duta.co.uk/news.php?extend.96 )